Investing in cryptocurrencies has become a standard among people around the globe. However, if you are new to the world of cryptocurrency trading, the process can be very intricate to understand. Therefore, you need to look for services that provide cryptocurrency exchange, meaning they will provide you with the right set of tools to buy and sell currencies such as Bitcoin, Ethereum, Dogecoin, and others.
If you are wondering where to start, keep reading, as we compiled a list of the best Bitcoin exchanges for buying crypto assets on the market.
Top 5 Best Crypto Exchanges In 2022
Below are full reviews of our top picks.
#1. eToro: Overall Best Bitcoin Exchange & Bitcoin Trading Platform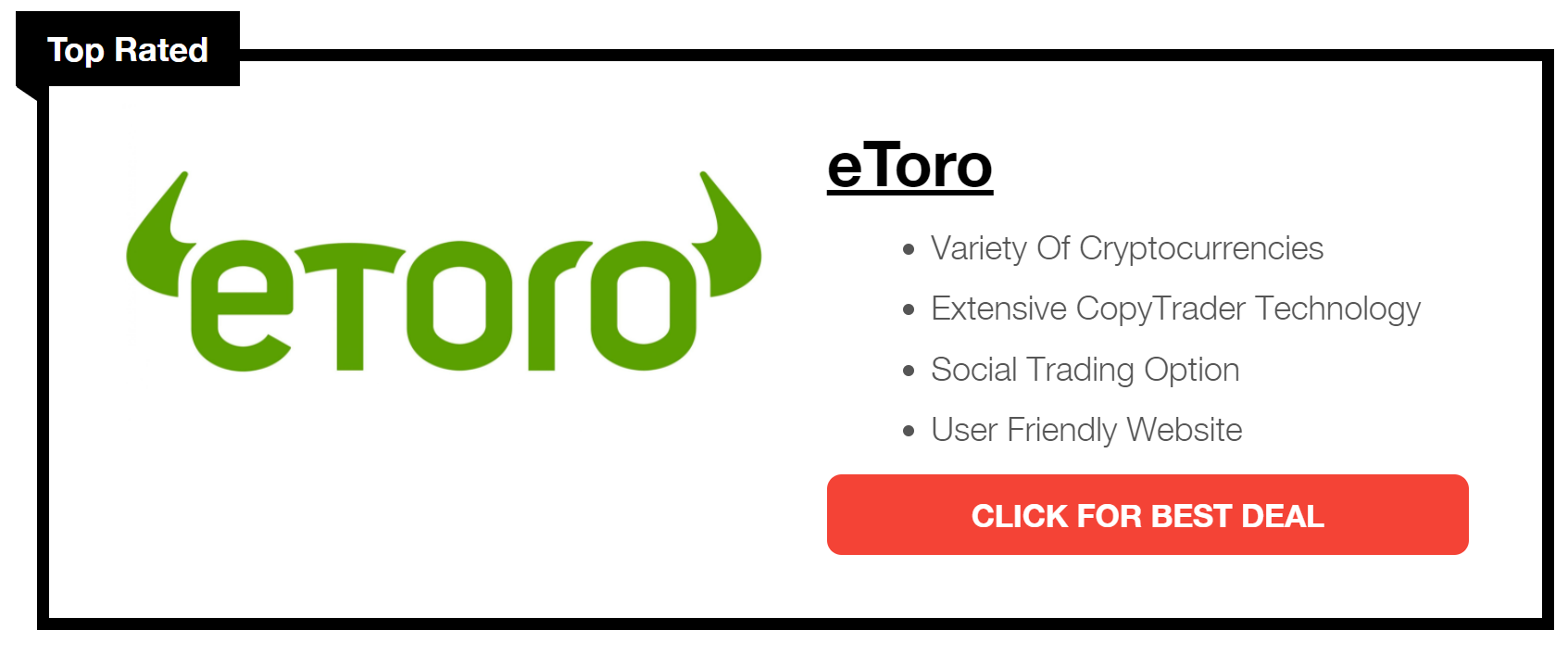 This ad promotes virtual cryptocurrency investing within the EU (by eToro Europe Ltd. and eToro UK Ltd.) & USA (by eToro USA LLC); which is highly volatile, unregulated in most EU countries, no EU protections & not supervised by the EU regulatory framework. Investments are subject to market risk, including the loss of principal.
Overview
eToro secures the top spot on our list of the best Bitcoin exchange platforms. It was founded in 2007 and has since been providing services for more than 13 million users. This pioneering trading platform also focuses on cryptocurrencies for clients in the U.S. Additionally, eToro is a social investing platform, which is an innovative tool that allows users to copy trades of other investors.
Features
Available Cryptocurrencies
As one of the best platforms for cryptocurrency exchange, eToro supports the following cryptocurrencies: Bitcoin, Bitcoin Cash, Ethereum, Ethereum Classic, Litecoin, Ripple, Dash, Cardano, IOTA, Stellar, NEO, EOS, Zcash, and Binance Coin.
In order to deposit funds, eToro offers you a wider selection of methods such as credit or debit card, wire transfer, PayPal, Skrill, Neteller, Giropay, Webmoney, China Union Pay, Yandex, and local online banking. The minimum deposit you can make for the first time is $200.
Additionally, eToro is known to allow users to invest in various assets. Aside from cryptocurrencies, the clients can also invest in commodities, currencies, stocks, indices, and other assets. However, U.S. residents are limited to trading cryptocurrencies.
A useful feature eToro provides is the ability to copy trades from other investors in real-time. Its CopyTrader tool allows you to select a specific trader, and then the platform will automatically trade the same as your selected investor does. You will still be able to set the number of funds for each CopyTrader, and you will be able to control drawdowns as well.
Another appealing feature eToro provides is known as CopyPortfolio. The way this tool works is similar to CopyTrader, but now you will be able to get the entire portfolio of selected traders. You can choose to invest in copies of portfolios from the top-performing traders or invest in market portfolios, which can lead you to various investments.
In addition, its CryptoPortfolio product allows you to invest in the most popular cryptocurrencies. This platform has a more extensive selection of cryptocurrencies available, so you can invest in different ones to avoid the risk of investing in just one cryptocurrency.
However, in order for the cryptocurrency to be included in the CryptoPortfolio, it has to have a weight that is equal to its market cap (minimum of $1 billion) and a monthly trading volume of $20 million.
eToro has launched its own cryptocurrency wallet that is compatible with mobile devices and is available for both iOS and Android users. This wallet allows you to log into your account and trade with specific cryptocurrencies. The funds are then stored by eToro, but you do have an option to send funds to your wallet.
Along with the wallet, eToro has launched eToroX, which is a cryptocurrency exchange that gives you full access to your crypto assets, meaning you can withdraw them from the exchange if you like.
Regarding fees, eToro's costs vary from asset to asset, but the current spread fees they have is 0.075% for BTC, 1.90% for ETH, 1.90% for BCH, 1.90% for LTC, 2.90% for DASH, 2.45% for XRP, 1.90% for ETC, 2.90% for Cardano, 4.5% for IOTA and 2.45% for Stellar.
What you also need to take into consideration is that the base currency is USD, so if users need to convert to USD from other currencies, they can expect additional fees. Currently, there are not any deposit fees for users to deposit U.S. dollars into the account. But, there is a withdrawal fee of $5, which is applicable when you want to cash out. Additionally, if you use the eToro wallet, you will get 0.5% for every time you send money from your account to your eToro wallet. If you have not logged in for 12 months, on the other hand, you will be charged with an inactivity fee.
Additional Features
What is also great about this platform is that its website is very interactive and informative. eToro provides its users with educational resources where you can learn everything you need or want to know about cryptocurrency and the stock market. Furthermore, they offer an online trading academy where you can find courses on investing and trading Bitcoin, videos, guides, articles for beginners, etc.
Pros
An excellent community for cryptocurrency traders
User-friendly website
A larger selection of supported cryptocurrencies
Social trading option
Virtual portfolio and educational resources
Cons
Not available in all states
Customer Experience
According to the reviews from clients, eToro is one of the most popular platforms for cryptocurrency exchange. Many users stated eToro has helped them earn high profits, and they liked that the platform offers a variety of features for both experienced traders and beginners. Others expressed they were delighted with the easy-to-use interface and how it has an educational section for its clients as well.
#2. Coinmama: Cheapest Crypto Exchange to Trade Bitcoin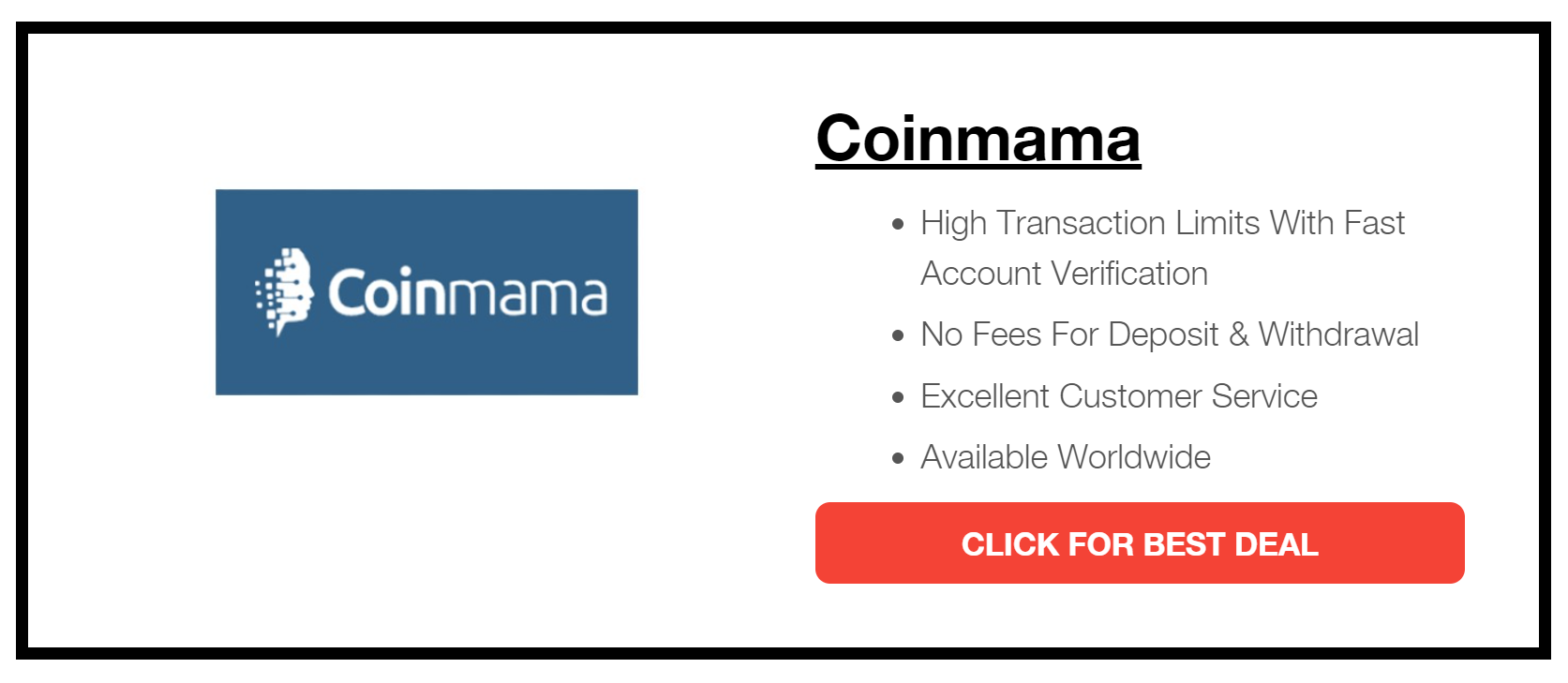 Overview
Coinmama is a cryptocurrency exchange that was founded in 2013 in Israel. This platform is available for traders in 188 different countries, and it supports ten types of cryptocurrencies. Coinmama is also known for its simplistic approach when it comes to Bitcoin exchange. What this means is that you can use your credit card to buy cryptocurrency directly from the website.
Features
What sets Coinmama apart from other crypto exchange platforms is that the company sells you coins directly instead of you buying coins from other people. For this reason, this online brokerage service makes the process much easier and faster, as you do not have to look for other buyers. However, such services can be more expensive for some people. Nevertheless, Coinmama seeks to reduce fees as much as possible.
Additionally, another great thing about Coinmama is that it offers a larger selection of coins. At the moment, you can buy Bitcoin, Bitcoin Cash, Ethereum, Ethereum Classic, Litecoin, Ripple, Cardano, Qtum, EOS, and Tezos.
Coinmama accepts both debit cards and credit cards that are issued by Visa and Mastercard, and they are also accepting payments by bank transfer. In addition, you can choose to buy cryptocurrencies using SWIFT, SEPA, Apple Pay, Fedwire, and Faster Payments.
The minimum amount of Bitcoin you can buy on Coinmama is 60 USD, but the limit depends on your account. If you are level 1, the daily limit is 5,000 USD, and the monthly limit is 15,000 USD.
If you want to make a purchase, you will need to complete a form of identity verification. Each level of verification has different account spending limits. For level 1, you will have to issue a valid ID and take a selfie with it along with a note saying 'Coinmama' and the date. Furthermore, for level 2, a secondary ID is required along with a utility bill. Lastly, for a level 3 account, you will need to fill in a short form.
When it comes to fees, Coinmama charges 5.5% for each purchase. However, if you use a credit card, the provider will charge you an additional 5%. A significant thing to know is that Coinmama's prices are set to USD and Euros, so the bank may access the best crypto exchange fee if you use another currency.
The users are automatically enrolled in the loyalty program as soon as they start using the service. How the program works is that the more you buy and sell, the more points you will earn. On that note, if a user stops buying crypto or reduces the amount, they can lose their loyalty ranking.
If your rank is 'crypto curious,' you will receive no bonuses, but as a crypto enthusiast, who is the second rank, you can save 12.5% on the final price on any order. To maintain this level, you will have to purchase $5,000 over a 90-day period. The following rank is a crypto believer. If you have this rank, you will be able to save 25% of the final price of any order. In addition, your account must be at least 30 days old with at least $18,000 spent buying crypto in a 90-day period.
As mentioned, Coinmama allows you to buy and sell directly from the company, which means the process is quite simple. As a user, you will need to select how much you would like to buy, and then the site will share fractional shares of Bitcoin. You can make purchases as low as $50 worth of Bitcoin, based on the trending price.
Additional Features
What we also liked about Coinmama is that its website is very informative about the services they provide. If you visit the site, you can go to the blog section, where you can find helpful articles on every topic of cryptocurrencies you can think of, which is very useful, especially for beginners.
Additionally, you can find Bitcoin and Ethereum calculators, which can help you convert Bitcoin into money and can assist you in checking the current rates, planning your investment, and making your purchase in the same place. Regarding new features, Coinmama supports six different fiat currencies, including USD, EUR, GBP, AUD, and JOY, meaning you will get the exact value in crypto in the particular currency.
Pros
Variety of payment options
No fees for crypto deposits and withdrawals
Fast verification process
Purchase Bitcoin in fractions
Easy to use platform
Cons
No option to deposit with PayPal, American Express, or Discover
Customer Experience
By reading through reviews from clients, we noticed an overwhelming amount of positive feedback for how easy the platform is to operate. Many clients were satisfied with the selection of cryptocurrencies they offer and the wide range of payment options as well. Other users expressed they liked the fact that its site is very informative for beginners.
#3. BlockFi: Beginner's Top Choice for Investing in Bitcoin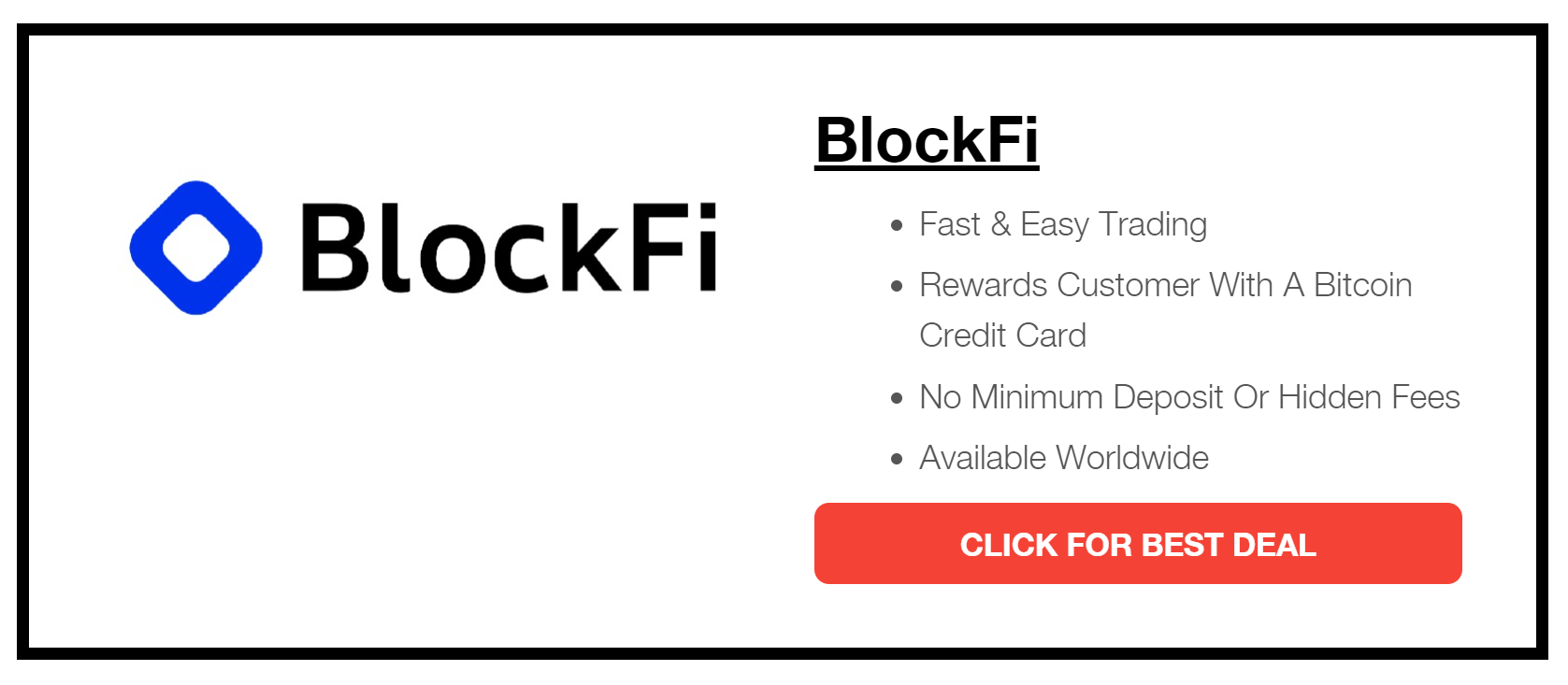 Overview
Next on our list is a crypto management platform that was founded in 2017. Since then, it has been providing cryptocurrency services for its clients. BlockFi offers its clients to borrow cryptocurrencies, earn interest, and then trade the holdings from the most reliable service providers.
Features
At first, BlockFi was known as a Bitcoin savings account, but now it allows you to borrow Bitcoin and earn interest on your holding with its Interest Account System called BlockFi Interest Account (BIA). What BIA does is that it enables you to earn returns after depositing crypto into your account. This means you need to register and sign-up, fund your account using cryptocurrencies, and then start earning interest. Once your account is funded, you can earn returns, borrow money, and do more with your holdings.
BlockFi also allows you to do cryptocurrency trading. In other words, you can buy and sell cryptocurrencies with your account at very competitive prices. What is great about this platform is that you get instant transactions, better prices than competitors, and interest accrual.
This Bitcoin exchange platform also allows you to continue earning interest on assets. What you can do is select a currency and then enter the amount you want to purchase. There are no hidden fees regarding trading with BlockFi, which we really liked. You can also buy and sell cryptocurrencies such as BTC, LTC, ETH, PAXG, and stablecoins, and you can trade cryptocurrencies using the mobile app as well.
On BlockFi, you can also borrow funds against your crypto assets by paying APR as low as 4.5%. If you do not want to sell them, you can use your crypto holdings as collateral, meaning you will still access your crypto while getting student loans. The requirement that you need to maintain is a 50% loan to value for a 12-month term.
BlockFi allows you to receive a loan the same day it receives collateral. You can pay off your loan by paying a portion or paying it off entirely as early as you want. What is also great about Blockfi is that there are no additional fees.
Moreover, BlockFi allows institutions to secure crypto trading while borrowing or lending cryptocurrencies, earning returns, and enjoying other benefits. Through this service, the institutions can expect customizable lending and borrowing terms for cryptocurrencies, stablecoins, and even U.S. dollars.
A unique feature that BlockFi announces is the Bitcoin rewards card that will soon be available. The company claims you can earn 1.5% back in Bitcoin for every purchase, which is refreshing to see. The card can be used anywhere credit cards such as Visa are accepted.
If you are interested in getting a BlockFi rewards credit card, you need to sign up for an Interest Account, complete your profile, make a deposit, and then sign for the waitlist. Some of the best offers of the rewards credit cards are the following: $250 on BTC as a bonus for spending $3,000 within three months, 3.5% rewards on all purchases within four to six months, $30 in BTC for every client referral, and others.
By partnering with BlockFi, you can earn commissions as a qualified referral. The company will also provide its suitable partners with training, support, and special bonuses and promotions. As of right now, the earning potential is 0.5% on all deposits, and the maximum commission that can be earned is $1,000.
Furthermore, if you sign up using the provided code and deposit $100 into BIA, you and your referred friend will receive $10 in BTC. If you manage to give more referrals, the bonus will increase.
BlockFi Mobile Application
The mobile application allows you to manage your account on the go. It is compatible with both iOS and Android users, which makes it very convenient. Additionally, mobile users can earn up to 8.6% APY on their holdings, and through the application, they can manage their balance, trade, borrow money, earn interest, etc.
What makes BlockFi one of the best Bitcoin exchange platforms is that they have no hidden fees policy. However, you will be charged fees for withdrawals as follows: 0.0025 BTC per withdrawal, 0.0015 ETH per withdrawal, 0.0025 LTC per withdrawal, $0.25 stablecoins, and 0.0025 PAX6 for a withdrawal. An important thing to know is that BlockFi offers one free withdrawal per calendar month.
Pros
Services for any level of expertise
Implemented security strategies
Bitcoin exchange-traded fund
Payment flexibility
No hidden fees
Cons
Withdrawals might take longer than other platforms
Customer Experience
According to the reviews, most of the clients are satisfied with the excellent and helpful customer service team and the amazing features BlockFi provides. Other clients have stated the website is very informative and easy to understand as well. We also liked the professional-looking interface of the site. Other clients expressed the ability to earn interest passively is a game-changer for them.
#4. Coinbase: Leading Bitcoin Trader & Bitcoin Broker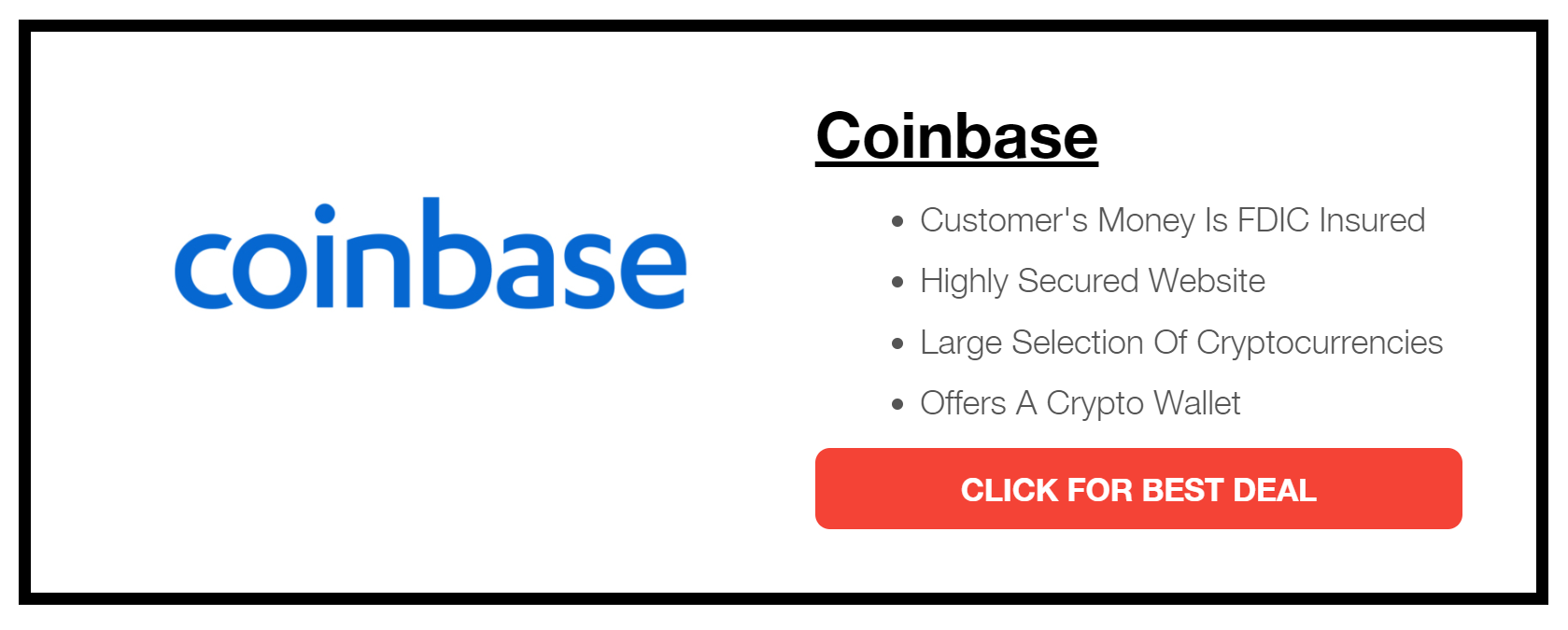 Overview
Next on our list is one of the largest cryptocurrency exchanges on the market, with more than 56 million clients availing of its services every day. Coinbase is known to provide a broad selection of services, including cryptocurrency investing, trading platforms, brokerage services, stablecoin, and many other products and services. This California-based platform was founded in 2012 and is one of the most popular crypto exchanges on the market today.
Features
Buying and Selling Cryptocurrencies
Coinbase's brokerage platform allows individuals to purchase and trade cryptocurrencies through it. As opposed to a trading platform, this brokerage service buys and sells the assets from the customers, which is very convenient for beginners.
Coinbase is known to provide one of the largest selections of cryptocurrencies, with over 50 supported currencies available as of today. The most popular cryptocurrencies include Bitcoin, Ethereum, Cosmos, Algorand, Bitcoin Cash, DASH, Civic, Litecoin, Ripples, Zcash, Stellar Lumens, Tezos, Synthetics, and many other options.
If you are a beginner in trading, you might want to start with Coinbase instead of Coinbase Pro. After you are familiar with how buying and selling cryptocurrencies on Coinbase works, you can easily transfer to its pro platform. In order to sign up, you need to provide personal information and verify your identity.
Moreover, Coinbase allows you to see an overview of the market and the cryptocurrencies along with its pricing, market rate, and market cap. If you want to buy crypto, you need to select a funding method and click to trade. Then, you need to enter the asset you want to buy or sell, select a dollar amount, and place your order.
Coinbase also allows users to buy, sell, trade, transfer, and store digital assets on the platform. You can access this online cryptocurrency exchange in-browser or through apps suitable for iOS and Android users.
Their more advanced users have the version known as Coinbase Pro, and it provides additional features that are designed for more experienced cryptocurrency investors. Some of the additional features you can find there are margin and futures trading, market limits, charting capabilities, exponential moving averages overlays, and others.
Coinbase's wallet is a secure place where you can manage and store your crypto assets. It even has a mobile wallet that is compatible with Android and iOS, which allows you to access your funds easily.
Coinbase has a fixed spread of 0.50% for crypto purchases and sales below $10,000 for its regular Coinbase users. However, it can still change depending on the fluctuation of the market. The fee is reduced for amounts between $10,000 and $50,000, and it is 3.5%.
In addition to the spread, there is a 'Coinbase Fee' dependent on the purchase's value. If the transaction amount is $10 or less, the user will receive a $0.99 fee. Additionally, for transactions more than $10 but less than $25, there is a fee of $1.49. If the total transaction amount is more than $25 but less than $50, then the fee costs $1.99. Finally, for a transaction amount of more than $50 but less than $200, you will receive a $2.99 fee.
If you create a new account, you will have a buying limit which you can increase by providing a phone number, personal information, and photo ID. The daily limit for U.S. citizens is $25,000 per day, but it depends on the method as well. If you deposit with cryptocurrencies, you will not be limited in any way. The limit for the Pro accounts has a daily limit of $25,000 as well.
Regarding payments, Coinbase allows you to make a deposit using wire transfer, credit or debit card, and crypto deposits. To withdraw, you can also use PayPal and cryptocurrencies.
Additional Features
What makes Coinbase one of the best cryptocurrency exchanges is the fact that it has an educational section where you can find articles about the most asked questions regarding cryptocurrency exchange, along with tutorials that are very useful for beginners.
Moreover, Coinbase takes safety measures for its clients, which shows it takes the users very seriously. Coinbase offers two-step verification, fingerprint logins, and ensures security when it comes to storing the users' funds.
Pros
Easy to operate platform
Provides access to more than 50 cryptocurrencies
Strong security
High liquidity for digital assets
Ability to earn rewards for specific cryptocurrencies
Cons
Higher trading and transaction fees
Customer Experience
When you search for feedback from Coinbase's customers, you will discover a lot of positive comments about how the platform is easy to use and understand and how it takes safety measures for the digital assets.
Other users were delighted with the wide selection of cryptocurrencies offered and the different payment methods that are supported. Additionally, the users are satisfied with the educational section where they can find out more about crypto exchange processes.
#5. Binance: Trusted Cryptocurrency Investments, Crypto Wallet to Invest Online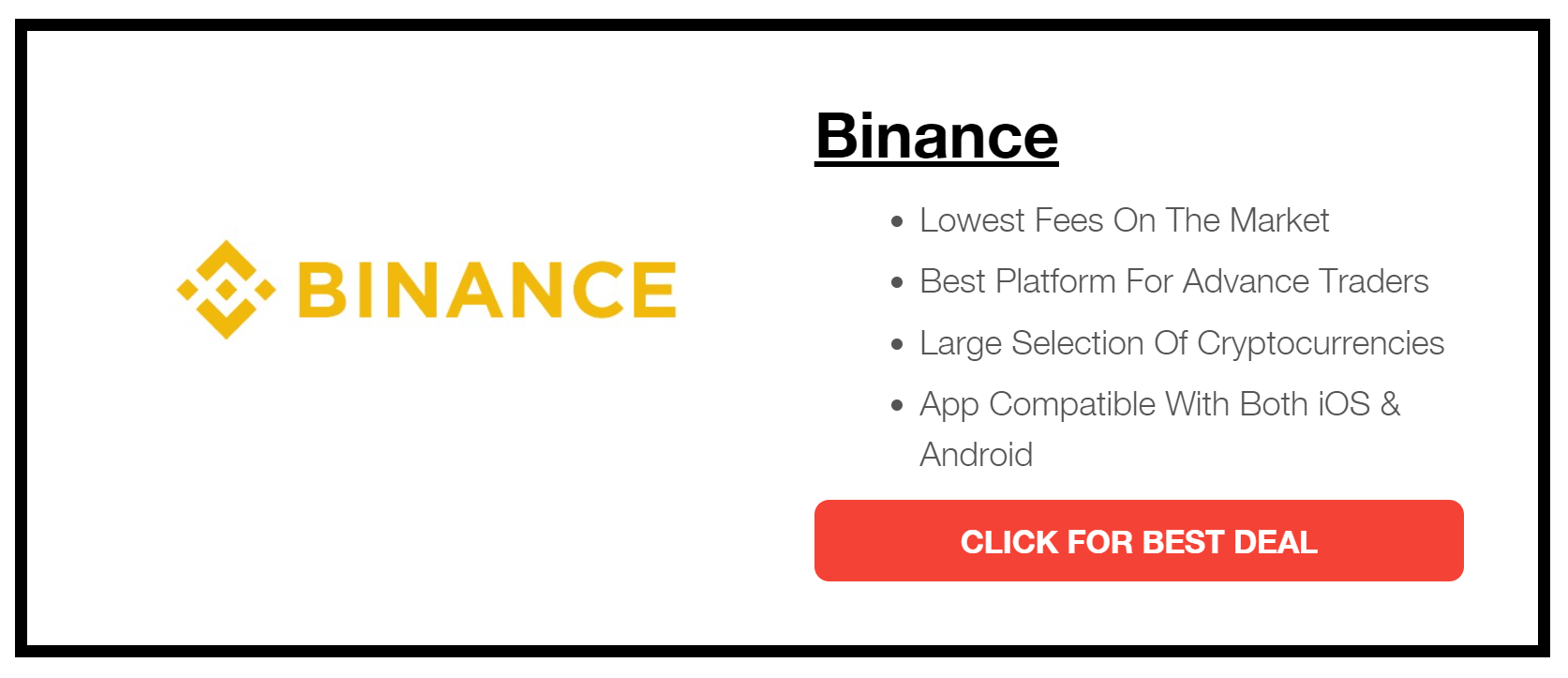 Overview
Founded in 2017 in Hong Kong, Binance has grown to be one of the best cryptocurrency exchanges by trading volume. Binance is also known as one of the leading platforms with over 200 coins supported for deposit and withdrawal and amazing features that are useful for both experienced and new or active traders and investors.
Features
Binance exchange allows its users to crypto exchange fiat for Bitcoins and other coins as well. An appealing feature Binance offers is to buy crypto with a peer-to-peer trading service. This service connects buyers and sellers directly, which is very convenient.
Additionally, Binance provides a brokerage service that allows you to buy cryptocurrencies using a credit or debit card. Moreover, you can also buy crypto directly with fiat by using SEPA and other wire transfers. However, this option is not available for USD deposits.
Currencies and Payment Methods
Binance offers over 200 types of coins you can crypto exchange, including the most popular ones, such as Bitcoin, Bitcoin Cash, Ethereum, Litecoin, Ripple, Cosmos, Chairlink, Nano, Stellar Lumens, Dash, and multiple exchanges platforms.
Furthermore, Binance allows you to purchase coins directly using payment methods such as credit or debit cards, SEPA, and wire transfer methods.
The trading process on Binance is very easy and straightforward. As mentioned, it offers an impressive cryptocurrency selection that is available for trading on the platform. A refreshing thing to see is that as a user, you can choose between its basic, classic, and advanced interfaces for trading options.
In addition, you will be able to change your interface regarding spot trading as well. Its classic interface allows you to take a look at the market and the trading views, while the advanced one provides you with the ability to access advanced charting tools.
With that being said, if you are a beginner, you have a quick trading option that allows you to convert coins at the market rate.
On Binance, you can also find an option for margin trading. This kind of trading supports users to trade with leverage of up to 10x on some of the coins, and it is available only for selected trading pairs. You can choose between cross-margin trading or isolated margin trading and risk only the trading pair you are looking at.
Futures Trading and Derivatives
The Binance Futures is a relatively new feature that Binance has introduced. Binance Future trading allows users to speculate on the price of Bitcoin and other coins. With this kind of trading, the users are not buying or selling crypto, but they are taking advantage of the price fluctuation in order to make money.
Some of Binance newest financing features include Binance Savings that allows you to make a return of idle funds through flexible and locked account types. In addition, Binance provides a staking service through which you can earn returns on proof-to-stake coins.
On the other hand, Binance Smart Pool encourages miners to contribute to larger mining groups and split rewards. Moreover, Binance introduces the Liquid Swap option, which is an AMM platform that allows users to trade coins with minimal slippage.
What is also great about this platform is that it has extremely low fees. If you are depositing using cryptocurrencies, there is no fee. Correspondingly, if you want to make a fiat deposit, the fee depends on the payment method and the currency as well.
There is a flat rate of 0.1% for users that do not require immediate liquidation, and for users that implement Future Trading, the fees are low as 0.02%-0.04% for both makers and takers. The withdrawal fees also vary depending on each coin. You can easily check them on the website, as it is very easy to understand and navigate.
Additional Features
Binance also provides a mobile app that is suitable for both advanced crypto traders and beginners. You can choose between two versions — Binance Lite and Binance Pro — which gives you access to plenty of other advanced features and tools.
Moreover, Binance has partnered with Visa and has introduced a card that is free without any processing fees. The card allows you to receive up to 8% cashback. Now that exchange platforms are introducing credit cards on the market, it is a sign that it will soon become a standard way of payment.
Pros
Large selection of cryptocurrencies
Mobile apps compatible with iOS and Android
Extremely low fees
Features suitable for beginners and advanced users
Informative and easy to use website
Cons
Customer service could be better
Customer Experience
Regarding the feedback from the customers, Binance's users are extremely satisfied with the wide selection of cryptocurrencies that are available for trading. Other users have expressed they were delighted with how easy the website is to understand and how the mobile application allows them to take a look at the market and the advanced options on the go.
Factors to Consider When Looking for the Best Crypto Exchanges
Available Cryptocurrencies
Most of the crypto exchanges allow users and investors to buy, sell, or trade some of the most popular cryptocurrencies such as Bitcoin, Ethereum, Litecoin, and others. However, if you want to invest in less popular digital currencies, you must look for platforms that will provide you with the ability to trade in that crypto against your fiat currency.
Trading Fees
Fees are another essential factor you need to take into consideration, as every time you buy, sell, or trade crypto, a percentage will be deducted by the platform. Therefore, it is recommended to look for crypto exchanges that provide low trading fees, even if you deal with a higher amount of funds. Also, be on the lookout for spread fees that can easily reduce your shares along with trading fees.
Availability
Before engaging in the market, we recommend you are aware of which crypto exchanges are available in your country, as not all of them are available worldwide due to financial regulations governing the crypto market. For this reason, before you take any action, make sure to contact the platform and see whether they accept your fiat currency and the deposit changes you will need to make.
Reputation
The reviews from the users and their honest opinions are other factors to look at when searching for the best Bitcoin exchanges. The cryptocurrency market is newer compared to traditional investments, and therefore, you need to make sure the crypto exchange is reliable and not able to be hacked. Additionally, make sure there is no theft history or any scams associated with the company.
Security
The security of your real-time market data and personal information is also a primary factor that should be taken into consideration. For this reason, it is significant to search for platforms that take safety measures such as two-factor authentication, multiple verifications processes for withdrawals, storage wallets, exchange with a hardware wallet, security certificates, and others.
FAQs: Bitcoin Exchange
Q. What Is a Crypto Exchange?
A crypto exchange is a marketplace where you can buy, sell, trade, or store cryptocurrencies such as Bitcoin, Ethereum, Litecoin, Dogecoin, and others.
Q. How Does the Crypto Exchange Work?
These exchanges are similar to brokerage platforms, as they allow users to buy, sell, trade, hold, and speculate cryptocurrencies with different users. The crypto exchanges can be centralized, meaning they are managed by a company that maintains the security of the trades, or they can be decentralized exchanges. The decentralized exchanges give verification powers to anyone that wants to join the network and make transactions.
Q. How Much Money Do You Need in Order to Buy Crypto?
Every exchange platform has different requirements which depend on the cryptocurrency you would like to buy. Therefore, it is recommended you take a look at the chosen crypto exchange and see the requirements for the coin you would like to buy.
Q. How Do You Open a Cryptocurrency Exchange Account?
Every exchange has its unique registration process, but generally, there are several requirements you need to meet to be able to open a crypto exchange account. You will need to provide personal information such as name, address, email address, social security number, and a photo or scan of a government-issued ID.
Q. How Can You Buy Crypto?
In order to buy cryptocurrency, you will need to create an account on the chosen crypto exchange, and then you will need to obtain a wallet to hold your other digital assets. Once that is settled, you will be able to buy crypto by transferring funds in U.S. dollars into your account via wire transfer, or you can buy them using credit and debit cards. However, be aware of the additional fees.
Q. What Is the Difference Between Crypto Exchange and Crypto Wallet?
The crypto wallet is designed as storage for your cryptocurrency. On the other hand, a crypto exchange allows you to buy and sell digital currencies very quickly and easily.
Q. How Do These Crypto Exchanges Make Their Money?
This platform sources its ravenous funds through various sources such as fund collection, commissions, tokens, initial crypto exchange, coin offerings, fund collections, and others.
Q. Are These Platforms Safe?
According to many users, Bitcoin exchanges are very safe to use and invest in, as most of them take a lot of measures to ensure their client's data and assets are safe. Before you take any action, make sure you select a reliable and transparent platform that will make your investing process worry-free.
Final Thoughts
In the final analysis, the cryptocurrency market is becoming more and more popular every day, and it is a new standard when it comes to investing in your future. All of the crypto exchanges we reviewed are well-established, and they provide excellent features for buying, selling, and trading crypto for both experienced and beginner investors.
We suggest going for eToro as your first choice. If you are new on the market, crypto exchanging processes can be overwhelming to understand. For this reason, make sure to take a look at our list of crypto exchanges and find the one that is the most suitable for you to start your investment career.
Signup for D Exclusive
Get partner offers, discounts, and more delivered right to your inbox each week.