Welcome to our exploration of the best under sink water filter. Here, we have selected the top five water filter systems, which we gathered after months of research and reading about each individual sink water filter.
In this article, you will find an extensive review with pros and cons for each of these great filters, a helpful buyer's guide to aid you in making your decision, and FAQs people interested in under sink water filters have posed to us and other websites.
So, let's dive in and learn about the best five under sink water filters for home, office, or anywhere.
The greatest under-sink water filters are designed to help users remove many harmful contaminants such as:
Top 4 Under Sink Filters
#1. Waterdrop Best Under Sink Water Filter – Best Overall & Editor's Choice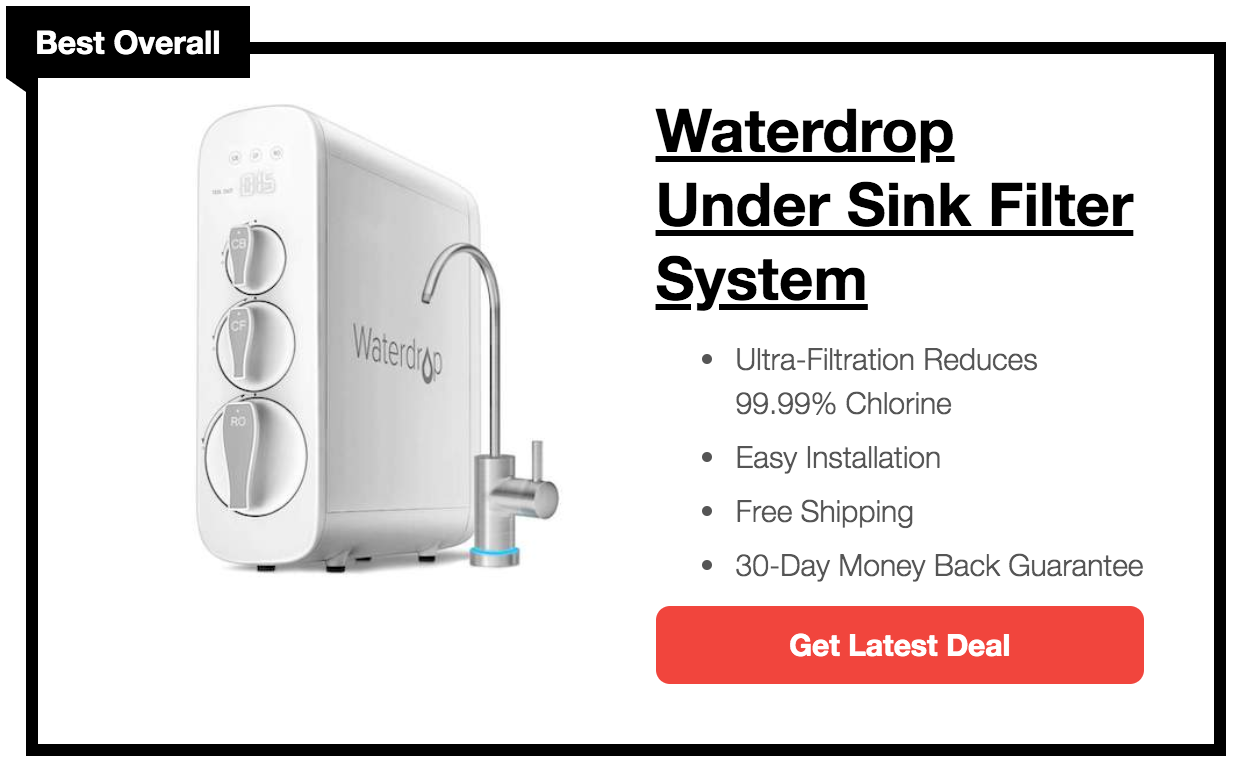 Brand Overview
It is an under sink filtration system consisting of 3 stages that eliminate contaminants measuring .01μm or greater, plus other microorganisms and bacteria.
Here are the three stages that accomplish this:
PP filter removes impurities and other particles.
UF Filter removes common contaminants.
CT filter removes heavy metals, chlorine and betters the taste.
The revolutionary integrated waterway makes it easy to make a filter change with no need to shut off the water to the device. This is good for the prevention of water loss and leaks.
Now let's talk about the filters: The UF membranes that are used in this system have a very long life- we're talking a 24-month lifespan. When you need to change the filter, indicator lights will come on and warn you by flashing different colors to get your attention.
The company designed this unit with every person in mind when it comes to installation. You don't need a certification in plumbing to install this in your home. In just a few minutes' time, you can install this unit yourself. It is even packaged with its own faucet as an added bonus.
Pros
Filters last for a long time.
Lights flash when it's time to change out the filters.
The horizontal design is space-saving, futuristic-looking, and easy to set up.
Cons
Higher in price than other units.
Must replace three filters at a time.
#2. Aquasana 3-Stage Water Filter Systems – Removes Broad Range of Contaminants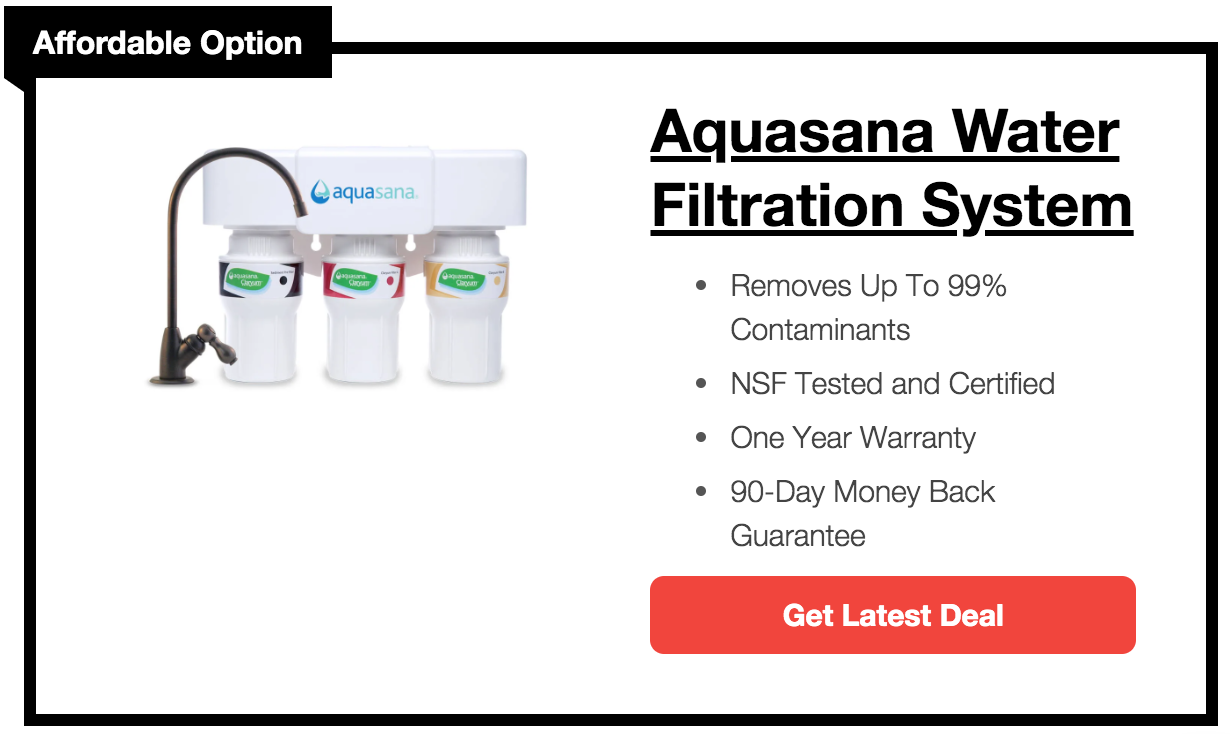 Brand Overview
Aquasana is one of the best under sink water filtration brands in America, as you can find the systems sold not only at huge online retail stores such as Amazon but also at various home improvement stores. This particular unit is rigorously tested and certified to meet NSF Standards P474, 401, 53, and 42.
This essentially means that it is capable of removing herbicides, pesticides, giardia, lead, chlorine, VOCs, PFOs and PFOA, and prescription drugs that people tend to flush.
It is capable of removing 99% of dozens of contaminants, the exception being TDS (that would require the use of a reverse osmosis system). This system's flow rate is high, coming in at a half-gallon of water every 60 seconds. It grants you a delicious and fast cup of water in seconds.
You should make sure your filter changes every 6 months, which is more often compared to some other brands. That being said, these best under sink filters are pretty simple to change, and you don't need to disconnect the system from your cold-water line. Simply remove the old filters and put in the new ones.
This best under sink water system comes with everything you need to install it yourself, including your first set of filters. Even if you don't think of yourself as a DIY guru, you can absolutely do this yourself.
Pros
Filters are by far the easiest to change.
Installation is simple for anyone to complete.
Can remove over 70 dangerous contaminants.
Cons
Buyers complained about leaks in the housing.
Filters last just 6 months.
#3. Frizzlife Under Sink Filter System – Most Precise Filtration System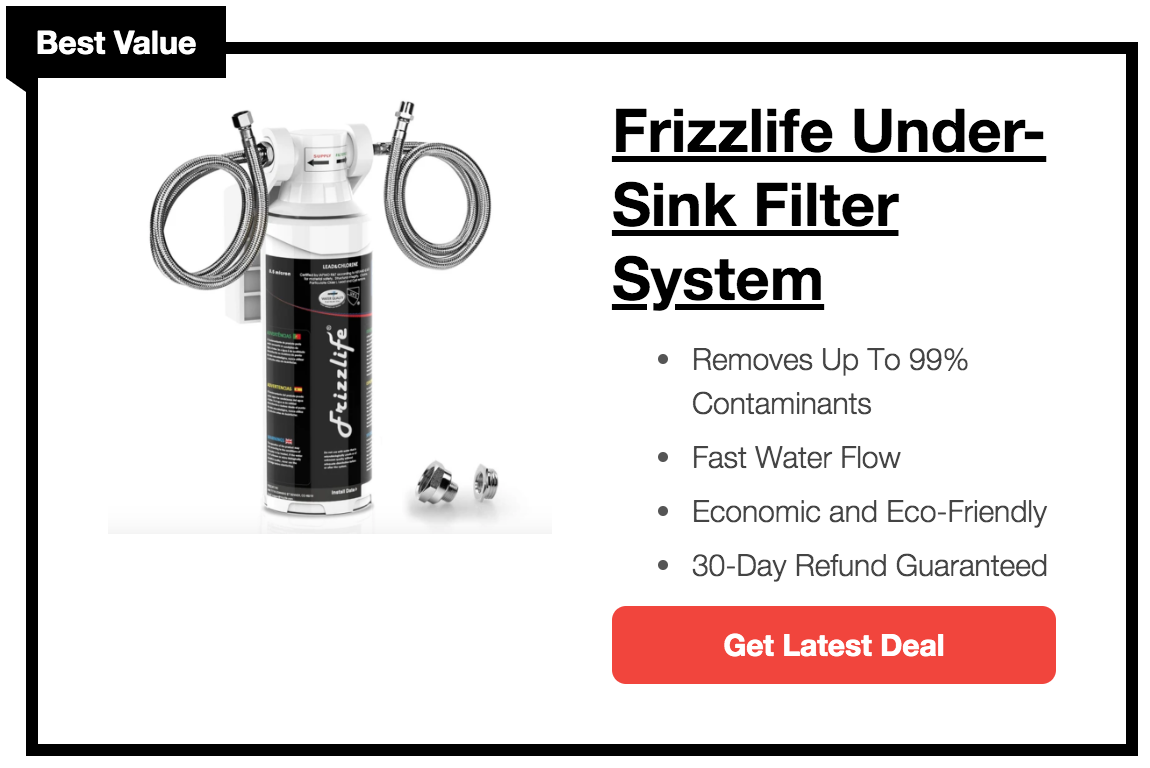 Brand Overview
Frizzlife helps you get rid of 99% of contaminants commonly found in water, such as arsenic, copper, fluoride, lead, chlorine, and cysts. A couple of things you will just love about this NSF-certified filter. One, it removes chlorine taste and smells from your water, and second, it is an NSF-certified filter which rigorously meets standard 53 and 42, which both deal with the reduction of unhealthy contaminants and impurities.
This unit makes use of just a single filter that does the work of two cartridges in one. It has two filtration stages for drinking water. The first makes use of a .5-micron sediment filtration media to get rid of rust, silt, and sand; the second uses .5-micron carbon block filtration media to get rid of chlorine, VOCs, heavy metals, and more.
It is also a very eco-friendly NSF-certified filter in that it contains a core filter cartridge that is located inside the housing. You only have to replace the core part of the filtration cartridge instead of discarding the entire plastic part, saving you money and preventing more plastic from going into the landfills.
The installation is very easy for this particular system, as the fittings work with most sinks out there. Maintenance is easy; all you have to do is change the filter after just 12 months of use. The filter is equipped with an on/off switch, so turning off the entire tap supply won't be necessary while doing this simple maintenance job. You don't need to use tools or make a mess when performing a filter change.
Online videos will help you install this system in just a matter of minutes so you can immediately start enjoying the refreshing water your family deserves. With a flow rate of 2 gallons per minute at 40 PSI, everyone can have drinking water in seconds.
Pros
Can fit ⅜" and ½" cold water lines.
Easy installation process.
The system is made with an auto shut-off design, so you don't need to turn off the water supply when replacing filters.
Cons
TDS cannot be removed using this system.
Some users complained about the loss of water pressure after using this system.
#4. CuZn UC-200 – Best Non-Reverse Osmosis Filter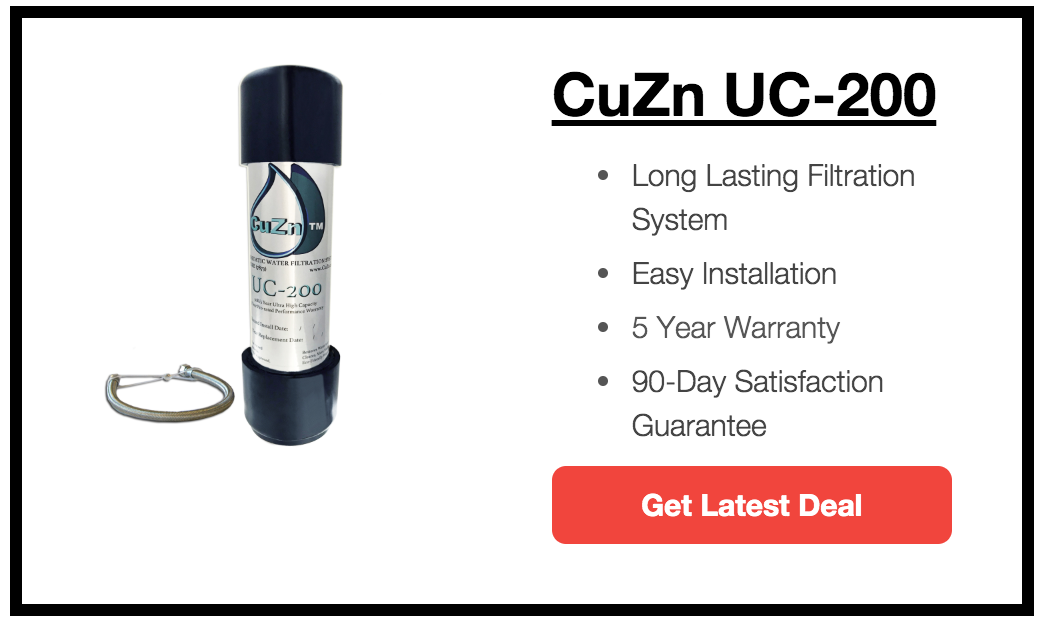 Brand Overview
If your family needs a high-capacity under-sink reverse osmosis system, this CuZn UC-200 RO system is an excellent choice. This RO system is perfect for big families or busy homes that don't want to change the system as often as you do with other filter systems.
The CuZn UC-200 RO System features a 50,000-gallon water system, which lasts for five years. Maintenance is a breeze with the UC-200 RO system. The reverse osmosis system is renowned for its reliability, evidenced most in the nearly perfect Amazon reviews.
These RO systems are known as a wide-spectrum model of under-sink filtration devices. This means it removes a large number of contaminants from the water.
Some examples include heavy metals, chlorine, pesticides, herbicides, and algae, plus many more.
You will love the three-stage RO system, which makes use of micro-sediment membranes at first, then coconut shell carbon, and lastly KD-55. Specifically, you will enjoy the combination of the KDF-55 filtration media, and the virgin acid washed catalytic coconut shell carbon filtration media because they have been tested to meet NSF standards 62 and 41.
You will enjoy the delicious taste of purified water but retain all the beneficial minerals.
Another thing we loved about this particular filter is that it's bacteriostatic. It means that the system is not susceptible to the growth of bacteria or mold.
For those of you with reservations about installation, you may want to seriously consider this particular reverse osmosis filter. Why is that? Well, CuZn offers a Comprehensive Install Support policy.
If you have non-standard plumbing connections located under your sink, which require that you purchase additional parts to fulfill the installation job, CuZn will provide you with all the necessary components needed at no additional charge.
Installation is a very easy matter- you just connect it directly to the main kitchen sink water line (the cold water line, of course). You don't even need to drill into the countertop to put in an extra faucet! Tutorial videos are available online to help assist you to install the filter system in just an hour or two.
Pros
CuZn provides buyers with top-level customer service if they encounter any problems.
If you do not have standard plumbing connections, simply contact CuZn for free components to install your filter system.
Easy installation.
Cons
The filter system measures 18 inches tall and 5 inches wide- it is a tight squeeze in many under-sink cupboards.
The filter system is heavy.
Buying Guide: How to Choose an Under Sink Water Filter?
It can be very hard to pick out the best water system that fits under your sink, especially if you are a first-time buyer and don't know what to look for. So, we created this helpful buying guide that shows you all you need to look for as you shop.
This buying guide discusses the ins and outs of under sink water filters, so you know exactly what to look for and what to avoid.
Define: Kitchen Sink Water System
These are water filters installed underneath a kitchen sink that will filter water right at its source. These filters can purify an unlimited quantity of water whenever you need it.
It begins working immediately when you turn on the spigot which produces the water right away for any type of use.
Bear in mind this is not the same as a reverse osmosis RO system, sometimes called an RO filter. RO units can be installed under the sink, but they operate in a different way compared to under sink filters.
Unlike RO systems, an under sink filter purifies the water directly and does not create wastewater. RO systems are more comprehensive in their filtering process, but they are more costly. Meanwhile, under sink filters are cheaper and easier to maintain.
Water enters the filter and leaves to be more pure and drinkable. The filter connects to a water pipe located under the sink. The water goes from this pipe into a filter that is pressurized. It is then cleaned up and sent through a different pipe where it comes out of your faucet as pure, clean water.
You might use a special faucet for this, which is different from your regular sink where dishes are washed. This is fine, but it is becoming more commonplace for the under sink faucet to steer the entirety of the cold-water supply to the filter before it comes out of the faucet.
You can do whatever you prefer when you install your filter system. This method allows you to enjoy filtered cold drinking water for all uses while the hot water stays as it has always been.
Why Should I Use an Under Sink Filter?
Better Water Taste
Many of you are going to buy an under sink filter because you want cleaner, pure water, and that's OK. But a side benefit that many are unaware of is that it improves how the water tastes. It improves the water's odor and taste by removing things like chlorine or sulfur, the latter of which gives water that "rotten egg" odor. It makes it safer and delicious, like fancy bottled water.
Gets Rid of Contaminants/Impurities
Depending on where you reside, the water you get could possess all sorts of undesirable impurities or contaminants. Even viruses and bacteria could be found in that water. You may even find that herbicides, pesticides, or metals are in the water, too.
The only way you can be sure that all that is removed from the water is to process it through an under sink water filter designed to remove such contaminants.
The varying filters in the device will be capable of removing many contaminants, which in turn makes the water clean, safe, and delicious.
Not Too Costly
Do you love bottled water and buy it often? This filter will pay for itself in time as you won't need to buy it any longer. You can fill your own bottle and take it with you wherever.
The cost of replacing the water filters over time will be less than purchasing bottled water every week, paying bottle deposit fees, and having to use your time counting them out and recycling them.
Even in terms of maintenance, these under sink water filters don't cost much to run or maintain and are very efficient.
Great on Space
Many of us live in small homes and apartments, but don't let that deter you from getting an under sink filter. These are great if you don't have the space for a countertop filtration device or prefer an empty kitchen counter. These systems are placed under the sink and leave your counter space clean and tight.
It will require you to clear out the cupboard underneath in order to install it, but it won't be out on display where it is visible when guests come over.
Expert Tips: Purchasing an Under Sink Water Filter
Most under sink water filters can be purchased right on the internet or from home improvement establishments. Most folks are shopping online these days due to the vast selection of filter systems out there. Plus, you don't feel pressured by salespersons.
Be sure to review all water filter reviews before buying. Compare the features, pricing, and company reputations. Also, don't be afraid to message the manufacturer directly- they will be glad to answer your queries.
Before You Buy: Consider These Factors
It may be tempting to buy the first filter system you see, but don't do that. Consider these factors first, so you get the most out of your filtration device. Think about which ones would be most beneficial for you and make your purchase based on that.
Type of Filter Used
The variety of water filter systems you purchase will have an impact on how hard the installation process will be. A simple filter for a kitchen sink is quite easy and a separate faucet installed at the sink won't be needed during this process.
Conventional filters route water over to a separate faucet, which is usually included in your filter system box. Perhaps you would prefer to buy a simple filter for under the sink based on the installation difficulty alone, but conventional systems could be what you really need.
If you would like the choice of having both soft and hard water for drinking, having two different faucets will offer that to you.
Take Measurements
The measure of the space under the sink must be examined before you buy. This way, you can be sure the system you want will fit in the space you have.
Some of these under sink filter systems take up more space than you might think, and if you know you are limited on space, you should look around for a system that is compact and uses smaller filters.
Installation: Easy or Hard?
Most under sink filters are assembled partially at the time of purchase, and you simply hook the system to the cold-water line, and you're ready to go.
Be sure to go over the installation steps before purchasing it to verify that you are capable of installing the system. Most of the time, you can find instruction manuals online for review. If you cannot find one, reach out to the manufacturer, and they may be able to email a copy.
Bear in mind that if you want to buy a conventional filter system, installation is going to be a bit more tricky. You will have to install a faucet at the sink for the filtered water.
Maintenance and Installation Pricing
If you opt to hire an installer or contractor to install the under sink water filter system, you will have to consider that cost as part of your overall cost.
As far as maintenance goes, many of these under sink water filter systems require you to change out the filters when they are not performing at their best any longer. Newer filters will cost a bit more money, but they are necessary for keeping your system working for many years.
Safety Certification
You should check for one or both of these certifications: NSF/ANSI and/or Water Quality Association certification. These are signs to a consumer that the filter they are interested in has passed third-party tests and performs just as well as the manufacturer claims.
What Does NSF Certification Mean?
NSF is a USA-based product certification, inspection, and testing group. NSF/ANSI certification means that an item is compliant with purchasing and regulatory criteria that the organization establishes. The method of obtaining an NSF International Certification differentiates depending on the product being tested. But generally speaking, the manufacturer must send in information and details about the product before they agree to allow it to be tested and evaluated.
WQA or Water Quality Association
Similar to NSF International, the WQA is an independent, third-party group that represents industrial, commercial, and residential areas of water quality.
Manufacturers that seek to assure buyers that their product meets or exceeds water filtration process standards can contact WQA for certification.
Doing so is worthwhile as it shows consumers that they are a company committed to high standards of operation and excellent customer service.
Look For These Features in a Water Filter
Filter Life
To get the most use out of your under-sink water filter system, shop for a system that has top-quality cartridges complete with an extended filter life. All systems are going to require you to change the filters sooner or later, but the more you can go between filters, the more money you will save over time.
It is not easy to know whether or not the manufacturer is telling the truth about the life of their filters. So, your best bet is going to be to read customer reviews and product FAQs to determine what others experienced when using the filtration system.
Is The Faucet Free of Lead?
If you are buying a regular old under sink filtration system, you are going to need a filter for that water to flow. The one you get for free in the package matters. Make sure it is free of lead and high quality.
It can be tempting to go with the included option, but if you have to replace it due to it containing lead or because it breaks quickly, you won't save any money. Plus, that nice clean water you paid for won't be worth it if it comes into contact with a leaded faucet.
Component Quality & Durability
You are no doubt planning to use this every day, and if you have a family, you will be using it probably every hour. So, make sure the components are top quality. Read about the faucet, filtered water elements, and filter bodies, even the connecting tubes.
Your system will operate at a greater level of efficiency, plus be more effective if you opt for a system that is top quality from the get-go: the less upkeep and maintenance work you have to do, the better.
Be sure to carefully read customer reviews, so you see what others have to say about the components.
Instruction Manual- Can You Follow It?
Under sink filters are pretty easy to uninstall, and many of you won't require a plumber's services. But instruction manuals can be pretty poorly written at times, and thus tough to follow.
As a result, make sure to have access to the manual ahead of time to see how it reads. If it's rather hard to follow, verify that you can look up online videos or consult the manufacturer for live support if necessary.
Comparison Time: Under Sink Filters v. Countertop Filters
Maybe some of you are still wondering if a countertop filter is a way to go. It's your personal choice; our job is just to tell you about both sides so you can decide what works for you. Let's get into it now.
How It Looks/Sizing
Countertop filters are rather small and compact in terms of their size, but they do take up valuable counter space. They are designed to be pleasing to the eye and might look pretty great on your countertop compared to under sink filters, which look very utilitarian, and are meant to be out of sight.
Location, Location, Location
Under the counter, sink water filtration systems are out of sight and out of mind. Meanwhile, countertop filters are there for all to see. They cannot be put away. Most of the countertop types will require a hose that attaches to your faucet in the form of food-grade plastic tubing. It doesn't always look the best.
Filter Output
Most under sink and countertop style filters are devoid of water tanks that hold clean water in reserve. Therefore, they are called "point of use" devices. Output for both types should be similar, so you won't wait for clean, fresh water for so long as you purchase a quality filtration system.
Investment
You are sure to pay a bit extra if you want an under-the-sink model as these tend to be pricier. It is largely due to the better filter quality, size of the unit, and speed at which it performs.
Installing It
Under-the-counter filtration systems will require more work to install, while countertop models can be simply switched on and are ready for use. Depending on the under-sink model you purchase and your ability to install it, you may just need to contact a plumber to install it for you.
Maintenance of Under-Sink Filtration Process
The greatest under sink water filters are easy to maintain and install on your own. Chances are you can do it all by yourself, but it's OK if you'd prefer a plumber to assist you.
Here are some basic steps to installation- your experience will vary based on the system you buy:
Start by turning off the cold water supply so water won't flow through your pipe going into your sink. Turn on the sink faucet to release water pressure.
Put water filters together. The bulk of the system will be pre-assembled, so all that needs to be done on your end is clearing the space in your cupboard.
Attach the filtration system to your cold water line. Undo the supply line that delivers cool water and attach one of the flexing tubes to the pipe with the fittings included. Now attach the other side of the plastic tube to the pressure limit valve and feed the pressure limit valve to the water filtering system inlet, connecting it in its place.
Optional step – if using a faucet, install it now. If you are using a standard water filter system, mark a part of the sink where the faucet will be fit, then drill a 13mm hole. Now run the waterline through the faucet with the plastic tubing and stick the other end into the filter. You can ignore this if you are installing a simple water purifier system.
Now attach the tubing to your cold water pipe. If not utilizing a separate faucet, you simply just connect the opposite end of the filter to the main cold water piping once more, but at a bit higher level, using the same step as written above. The filter will show which end the tap water comes in and the clean water comes out, so be sure they are put in the right way.
Secure the water filter onto the wall. It is just a neatness step- it looks more put together this way. You can unscrew the filtering media from the wall when you have to change it.
Turn your cold water back on. Once the filter is fitted, turn on the water and look for any leaks. If you notice any, turn off the water and tighten the fittings up.
Run the water through the under-sink system to flush it out, then your water is ready for use to enjoy.
When Do I Change My Filters?
It varies based on the filtration system, but you're looking at 6 months to two years for filter replacement times. It may be a bit more frequent if you use your water very frequently or have particularly hard water/water with elevated levels of dissolved solids.
Cleaning/Replacement of Filters
The best thing to do is clean and replace the filters as per the manufacturer's instructions. Read the user manual carefully to know the best steps for sanitation and cleaning methods. You should be ready to take apart and sanitize the filtration system on a necessary basis.
Housing for filter units can be cleaned in warm, soapy water to get rid of sediment buildup. Filtration changes are easy; many of them pull out and click into place with relative ease.
Cons of Under Sink Filters
One Use Point: You cannot connect this system to your main water supply, so only your kitchen/office will have clean water, not the whole house.
Installation: Although installation is easy for some, it's not that way for everyone. Some of you will need a plumber, and that's OK, but it will add another cost.
Pressure: Those of you with water pressure ranging from 40-70 PSI will have no trouble running these filters, but those with lower PSI than that will need a water booster pump to get it into the filter properly.
Cost: With quality filters costing hundreds of dollars, it's tough to afford at first.
Maintenance: Maintenance is part of owning a home, and now this requires you to accomplish another house task- cleaning, filtration changes, and overall upkeep of your water filtration investment.
Is A Kitchen Sink Filter Ideal? How do I choose an under sink water filter?
Don't know if your family will benefit from this device? See below:
You would like a long-term solution for pure drinking water.
You spend a lot on bottled water.
Your tap water has an odd smell or taste.
Your office or home has elevated total dissolved solid levels.
If some or all of these sound relevant to you, it may be time to take a look at the filter options provided above.
FAQs About Under Sink Water Filtration Systems
Q. Where Can My Filter Be Installed?
They are meant for the kitchen cupboard underneath the sink. Since the faucets included are kitchen-style, the best place to put your system is in your kitchen.
Q. Is It Possible to Change and Install Filters Yourself?
Yes, you can do this all on your own after reading the owner's manual and practicing a few times. There are also tutorial videos online that show you. As with any task, it gets easier as you do it more often.
Q. How Can I See What's In My Water?
You can contact your city or town and ask for a water quality report. Some cities even post it on the Internet. There, you will see any and all contaminants, health effects of consuming low-quality water, and contaminants in your city's supply vs. the national average.
Those of you operating on wells will need to buy a testing kit and use that to see what's in your water.
Q. I've Already Got A Water Softener System, Do I Need A Filtration System Also?
This is up to you. Softeners remove only minerals that cause hard water from the supply, such as magnesium and calcium. Meanwhile, a filtration system will help you remove bacteria, chlorine, lead, and heavy metals.
Q. Should I Buy a Reverse Osmosis System or an Under Sink Filtration System?
RO systems are good in their own ways- for example, they are very thorough in the removal of contaminants like bacteria. Fluoride can also be removed, which under sink systems generally don't do.
However, RO systems are pricier than under sink filtration systems, plus they generate wastewater during their operation. It's a matter of what you want and can afford.
Q. Is An Electricity Source Needed?
No, electricity sources are not needed to operate these systems.
Conclusion – Which Under Sink Water Filter is Best?
Now that you are aware of the best under sink water filters, which one stands out most to you? Which one do you think will be the best fit for your home?
The uses these filtration processes offer families who use them are endless. For starters, everyone in the house can enjoy clean, healthy water that is free of unhealthy contaminants.
Kids and babies especially can benefit, as parents can use the water to make oatmeal, hot cereals, baby formula, and so much more.
Overall, we recommend Waterdrop Under Sink Water Filter System as the best option.
That being said, it's your turn. Time to do research on these four great filter systems and see which would be the perfect one for you and your family. Cheers to a fresh and delicious taste of clean water.
Signup for D Exclusive
Get partner offers, discounts, and more delivered right to your inbox each week.